New Beginnings Thrift Shop
404 Main Street, Schoharie NY 12157
A non-profit Thrift Store in Schoharie, NY that provides employment training and job opportunities for people with developmental disabilities supported by Lexington – Schoharie.  
Our thrift store provides our employees with the opportunity to:
Gain real-world work experience | Get involved in the community | Earn a paycheck | Grow in confidence and independence | Work with a team| Become better acquainted with our community
Browse our selection of gently loved merchandise, donate quality merchandise and help us provide work experiences to people with disabilities. 
At New Beginnings Thrift Shop, we're not only helping people achieve their goals of obtaining work in a community setting, but we're also providing an important service to our community – offering our customers a great selection of clothing and household items at prices that fit any budget. 

Whether you stop in to make a donation or to shop, you'll feel at home with our friendly staff. Donations are accepted at our store during regular business hours and we will gladly provide tax receipts upon request. For more information on donations, please contact Denise Hennes at Hennesd@thearclexington.org or call (518) 295-SHOP (7467).

New Beginnings is open Tuesday through Friday from 10 a.m. to 5 p.m. and Saturday from 10 a.m. to 2 p.m. Come visit us, find that perfect item you've been looking for and help keep people with disabilities employed in our community. 
See what's up at New Beginnings by connecting with us on Facebook:  https://www.facebook.com/NewBeginningsThriftShopSchoharie
Toe Path Industries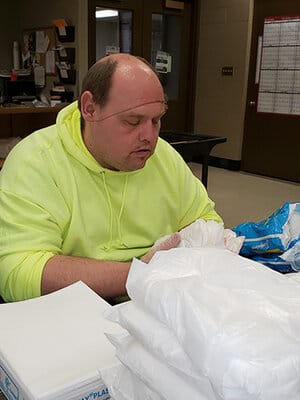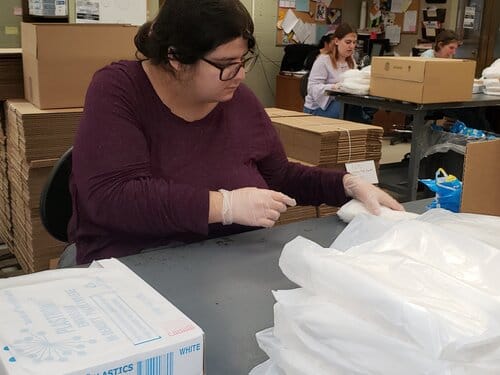 "Supporting business with scalable, needs-focused production, manufacturing, and fulfillment services while creating valuable integrated work and earnings opportunities for individuals with developmental disabilities."
Owned and operated by the The Arc Lexington – Schoharie, Toe Path Industries offers a wide range of manufacturing, production, packaging, and e-Commerce fulfillment services to an ever-expanding list of national and international business partners.

With over 40 years of experience, we've earned a reputation for delivering quality products and services … at market competitive prices, within budget, and always on time.

From product manufacturing, assembly, packaging, and e-commerce fulfillment, our skilled labor force, competitive rates, and commitment to providing high-quality services and timely delivery makes Toe Path Industries an outstanding choice for your outsourcing needs.

Why Outsource?
In general, manufacturers choose contract packaging when it is less costly and more efficient than packaging their products in-house. According to the Contract Packaging Association, there are many reasons a business might consider outsourcing their production, packaging, or fulfillment operations to a contract packer, including:
Limited equipment, expertise, or labor resources for a particular job

Geographically separated facilities could serve the product better for national distribution

Non-standard packaging requiring special machinery or labor-intensive work

Short-term requirements may be better served by specific experience or equipment they don't have

There's a warehouse full of a product that needs re-working to make it saleable

Toe Path Industries brings very specific expertise to the table.  We live and breathe product assembly, packaging, production, and order fulfillment – all day, every day. Our customers rely on us to scale their packaging and production capacity to a higher level than they would be able to achieve on their own – quickly and without significant investment or reorganization.

A sampling of the contract production, assembly, and packaging services we offer, include:
Hi-Speed Precision Die Cutting

Shrink-Wrapping and Bagging

Point-Of-Purchase Display Assembly and Pre-Packing

Product Assembly and Kitting

Labeling

Collating

Separation/Grade-Sorting

e-Commerce Fulfillment both Direct-to-Customer and Bulk Packaged-to-Distribution
As a customer, you can count on Toe Path Industries to develop a plan that works for you. Building on time-proven techniques, we'll create a custom solution for your unique needs.

What can you expect when you work with us?
QUALITY – At Toe Path Industries, we insist on getting it right, the first time, and every time. We'll share our experience with you, create a process plan, and if you're still worried about trusting 'someone else' with assembly, packaging, and shipping your product, ask us about our "quality guarantee".

AFFORDABILITY – We provide a cost-competitive alternative to doing the work in-house, in many cases assembling, packaging, and shipping your products in less time and at lower costs than you can internally.

ON-TIME DELIVERY – When we take on a project for you our commitment is simple … we'll complete your job on time and always on budget!

SCALABLE WORKFORCE – Think of us as an instant extension of your workforce – ready, able, and willing that you won't have to go through the headaches of finding, hiring, and training! For large volume contracts, TPI maintains a vetted group of allied organizations that share our culture and values that we can call on to meet your production needs. And when we do, we'll monitor and guarantee their performance so you can focus on selling your products and growing your company.

MATERIALS WAREHOUSING – On-site and local warehouse access to store your product – securely.

RAW MATERIALS SOURCING – If you have a product that requires fasteners, sheet goods, fabricated metal or plastic components, or packaging, we can assist in the sourcing of these materials for you.

Would you like to speak with us about the production, packaging, or fulfillment needs of your company and ways we may be able to support and help grow your business? We'll be happy to answer any questions you may have about the process. Please call David DiNicola at 518-295-8130, ext. 220 or DinicoD@thearclexington.org.
Commercial Product Manufacturing, Packaging, Sales and Distribution
Toe Path Industries is also a member of the NYSID, Inc. New York State Preferred Source Network of Suppliers, and is a leading NYS producer and distributor of Floor Maintenance and Utility Pads, Feminine Hygiene Products, Batteries, Computer, and Office Equipment Cleaning Products, and Reflective Police and Emergency Vehicle Graphics and Marking Kits. We use only quality materials from several industry-leading suppliers in the manufacture/packaging of our products, including ACS/Treleoni, Energizer, Avery Dennison, Premiere Care Industries, ReadRight, and 3M. Today, products produced by Toe Path Industries and sold through NYSID, Inc. are being used in Schools, Correctional Facilities, and over 1,000 State and Local Agencies and Offices across New York.

Interested in learning more about the social and fiscal impact that NYSID's Preferred Source Contracts have and the employment opportunities created by these contracts for individuals with disabilities? Read this recent economic impact statement completed by the Rockefeller Institute of Government.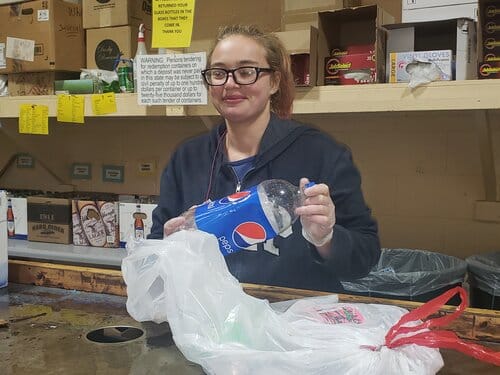 Toe Path Bottle and Can Redemption Center
Temporarily Closed due to COVID-19
Toe Path Redemption Center is a full-service redemption center operated by Lexington's Schoharie County campus. We're committed to promoting environmental responsibility while offering individuals served by the agency employment training and earnings opportunities.
Since opening in November of 2009, the Redemption Center has redeemed over 11 million containers – returning over $550,000 in deposits back to our customers while providing work opportunities for 30 individuals supported by Lexington. Customers enjoy fast and friendly service and on the spot cash refunds. Donations of redeemable containers are also gladly accepted and very much appreciated. The proceeds from donations are returned to Lexington and support center operations, equipment upgrades, and facility improvements … undertaken specifically to improve our service capabilities to our customers.
The Redemption Center accepts ALL brands and sizes of New York State deposit bearing bottles and cans. No long lines, no mess, and you'll never again have to hear, "store associate, please go to the bottle room to fix the broken machine!"

Conveniently located on the Lexington – Schoharie campus at 121 Opportunity Drive, Schoharie, the Redemption Center is open Monday through Friday 9 a.m. – 4 p.m. Accounts are welcome and pickups are available in support of businesses and not-for-profit organizations.