Employment Resources in Fulton County and New Pathways to Employment in Schoharie County support approximately 200 individuals, over 100 of whom are employed in the community. Others are being supported in order to prepare for, find and retain jobs. We specialize in working with people who have difficulty finding a job, people with disabilities and people who are reentering the work force due to other medical conditions.   We provide support with job readiness training; placement in competitive industry; follow-up employment supports including job coaches; finding child care, transportation or appropriate clothing for work; and assistance with other personal needs. Both Employment Resources and New Pathways to Employment provide no-fee employment services and supports for men and women with cognitive, physical, mental or sensory disabilities and the employers who hire them.
In order to help these individuals find and keep rewarding jobs in the community, we customize our services to meet each job seeker's needs, skills and employment interests. We partner with over 50 local employers in Fulton and Schoharie Counties who provide jobs to individuals with disabilities and we provide training, coaching and other supports for a successful employer/employee relationship
Our Services Are Offered to Both Job Seekers and Employers
Our supported employment programs offer expert recruiting, job training and extended support services free of charge to our customers. We do the important work of matching capable people with disabilities to employers looking for qualified, long-term employees.
How We Work with Job Seekers
If you have a disability and want to work, Employment Resources and New Pathways to Employment can assist you in obtaining successful employment. We will work with you every step of the way to match your interests, skills and career path.
Our training and on-the-job support will allow you to settle in and learn to do your job well. We'll be there to help you get acquainted with your employer and co-workers. We'll stay until you feel comfortable with your work and surroundings. Then, depending on your individual needs and funding options, we'll check in with you on a regular basis and visit you on or off the worksite depending on your preference.  We'll be there to assist you in learning new tasks or to help resolve any problems that might come up.
We work together by:
assisting with referral (All job seekers are referred to us through Adult Career and Continuing Education Services – Vocational Rehabilitation
(ACCESS VR). We assist individuals without an open case with ACCESS VR in order to receive services.
helping to set and reach personal goals
addressing personal needs
evaluating skills
providing classes, training, coaching and job site familiarization
identifying and reviewing opportunities
filling out applications and preparing for interviews
checking in on a regular basis in order to ensure success
helping with job retention
How We Work with Employers
If you are looking for valuable employees, we can help you hire people with disabilities who are dedicated and capable. Employment Resources will provide the training and support needed for successful, long-term placements at no cost to you or the people we serve. If you have a job opening, we analyze the skills needed and then find and train a suitable candidate.
We connect with ACCESS VR and other funding resources to make employers aware of eligible tax incentives and programs including "Work Try Out," which allows for wage reimbursement for a specified period of time after hire of an individual with disabilities. After hiring the right candidate, Employment Resources will work with you to teach the new employee the basic job skills required of the position. In addition to supporting the employee, we will also provide any training your staff may need about issues related to disabilities and our role in supporting the employer/employee relationship. When needed, we will provide additional skills training in order to ensure your employee is successful.
We work together by:
explaining our services
assessing and learning about the needs of your workplace
identifying job opportunities
offering potential candidates for the job
offering support through the interview process and completing the job offer
training and helping to develop the necessary skills to meet the specific job
providing coaching and ongoing support and communication to ensure a successful employer/employee relationship
Social Enterprises
In addition to job placement services, Lexington is also committed to developing businesses and social enterprises that provide integrated employment opportunities for the individuals we support. These businesses have proven mutually beneficial for both the people they employ and the communities in which they are located.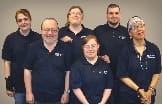 The Mobile Work Crew (The Crew), is a professional cleaning and janitorial service that has been cleaning area offices and businesses for over 15 years. Reasonable rates, reliable staff and friendly service are the hallmarks of this outfit. In addition to standard cleaning services, The Crew now offers both deep cleaning of tile floors and commercial carpet cleaning. Rick Ruby of Ruby and Quiri in Johnstown said, "The Crew has been cleaning our facility for years. We trust them and are completely satisfied with their work."
New Beginnings Thrift Shop
404 Main Street, Schoharie NY 12157
A non-profit Thrift Store in Schoharie, NY that provides employment training and job opportunities for people with developmental disabilities supported by Lexington – Schoharie.
Our thrift store provides our employees with the opportunity to:
Gain real-world work experience | Get involved in the community | Earn a paycheck | Grow in confidence and independence | Work with a team| Become better acquainted with our community
Browse our selection of gently loved merchandise, donate quality merchandise and help us provide work experiences to people with disabilities.
At New Beginnings Thrift Shop, we're not only helping people achieve their goals of obtaining work in a community setting, but we're also providing an important service to our community – offering our customers a great selection of clothing and household items at prices that fit any budget.
Whether you stop in to make a donation or to shop, you'll feel at home with our friendly staff. Donations are accepted at our store during regular business hours and we will gladly provide tax receipts upon request. For more information on donations, please contact Denise Hennes at Hennesd@thearclexington.org or call (518) 295-SHOP (7467).
New Beginnings is open Tuesday through Friday from 10 a.m. to 5 p.m. and Saturday from 10 a.m. to 2 p.m. Come visit us, find that perfect item you've been looking for and help keep people with disabilities employed in our community.
See what's up at New Beginnings by connecting with us on Facebook: https://www.facebook.com/NewBeginningsThriftShopSchoharie